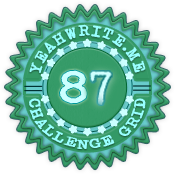 [The shiny, fun badge comes from yeahwrite, a cool place for bloggers to hang out. Stop by and check out the many talented writers on the grid!]
"Hope you're around for the obligatory annual visit," Mitch and Denise had written in the Christmas card that arrived late last week.  They're close friends from my law school days, and I see them regularly, including during the holidays.
They always encourage me to bring a guest when I come over, but I'll be going solo this year, and not just because I'm in between significant others.   Much as I love Mitch and Denise, on the rare occasions when I've brought a date to their house, things haven't gone too well.
There was the time, back in 2007, when they invited me and my then-boyfriend, "John," to their house for a dinner party.  An assistant dean from our law school and her husband rounded out the group.
The dean had introduced me to Mitch when we were 1Ls in the fall of 1998, and she took a personal interest in both of us that she maintained even after we graduated.  She always kept an eye out for dating prospects for me, so I was excited to introduce her to John.
I knew she'd like the fact that he was un-lawyerly, kind and tall.  She'd also appreciate his success as an entrepreneur, whether or not she was a fan of the online gaming industry he worked in.   I suspected she'd view his laid-back, reserved nature a good complement to my chattiness.
And she might have, except it didn't look so complementary when John withered in the face of her steady stream of questions.  He looked relieved when she shifted the focus away from him.  Eventually his look of relief gave way to a face of boredom.  He tried to hide it but the occasional flare of his nostrils as he nose-yawned revealed his true feelings.
We moved into the dining room, where he appeared moderately engaged but uncomfortable.  His taste in chair styles leaned more toward beanbag than Queen Anne.
As we dined on pork loin, he followed the conversation, meaning he was always a step or two behind it.  The evening was not unfolding as I had envisioned.
After dinner, I knew John was ready to go.  Just as I was about to start the goodbye process, Denise asked me to play their piano.  She and Mitch always made this request.  Usually I didn't mind but this time I tried to beg off.
"Oh, you all have better things to do than sit around and listen to me bang on a piano," I said. The dean dismissed my objection with a wave of her hand.
"You have to indulge us at least a little bit before you go.  I've never heard you play."  She said this as if I were Billy Joel instead of an amateur who'd taken lessons through high school and still remembered how to play a few tunes.
With leaden feet I followed the group into the living room.  I hoped John might at least welcome the change of venue and a respite from lawyer talk.
After I played a jazz number and a ballad, they asked me to play played a classical piece.  I knew just the thing: A rollicking, challenging Beethoven allegro.
I had just gotten through the toughest part, a set of fast-paced arpeggios at opposite ends of the keyboard, and was making my way toward the end of the piece.  From the corner of my eye I saw the dean's face.  She wore a tiny frown that I took as a sign of concentration and interest.
I glanced at Mitch and Denise.  They looked happy.
I stole a peek at John. He looked…asleep.
The dean may well have been interested in my piece but she was plainly transfixed by the sight of my boyfriend on the loveseat, eyes closed, head back and mouth ajar.   The sound of hands clapping woke him up, but I barely heard it over the voice of the fat lady warming up in the wings.
My next boyfriend, "Steve," came to dinner at Denise and Mitch's, too.  Steve was 11 years my junior and had a huge, fun personality to match his king-size smarts.
This time, other guests attended in place of the dean and her husband, and there was no playing of the piano.  (Perhaps Mitch and Denise feared touching off another relationship-ending bout of narcolepsy.)
But some playing did occur.  At some point after dinner, Steve ended up in the basement rec room, horsing around with Denise and Mitch's teenaged son and his friends.
I can't blame Steve for choosing the kids over us.  They were, after all, closer to his age.  But I did blame him for putting a large hole in the drywall that brought a swift and awkward close to another evening at Denise and Mitch's.
Yep, "plus none" is definitely the way to go this year.